Premier customers
Services for our Premier customers are provided by the Wealth Management division of CheBanca!, which has made a name for itself in the Italian banking industry for its simple, innovative business model and high customer satisfaction
A success story
Since it was founded in 2008, CheBanca! has stood out in the Italian banking industry. It was the first natively digital bank and boasts a truly omni-channel structure (online, call centres and branches). Initially, its mission was to reach the retail banking market of the future by meeting digital technology users' banking needs and developing innovative services. In 2016 CheBanca! began concentrating on the development of wealth management services, without losing sight of its original focus on innovation and simplicity. That year, for example, we were the first in Italy to launch a rob-advisor providing retail customers with customized advisory services based on a model portfolio.
The CheBanca! brand has become synonymous with originality, digitalization, ambition and rapidity, and it has been rewarded with excellent customer satisfaction rates.
The bank's transformation into a wealth manager
Our transparent, efficient offer of services tailored to customers has proved to be a successful strategy, attracting Premier customers who have remained loyal over time.
CheBanca! increased its position further in August 2016 with the acquisition of Barclays Italia's retail assets (89 branches, 70 financial advisors, 220,000 customers, 3 billion in direct funding and 3.1 billion in indirect funding). The financial advisors who joined our group have created a solid foundation for our expansion in wealth management.
Since 2016 we have worked to definitively transform CheBanca! into a wealth manager for Premier customers.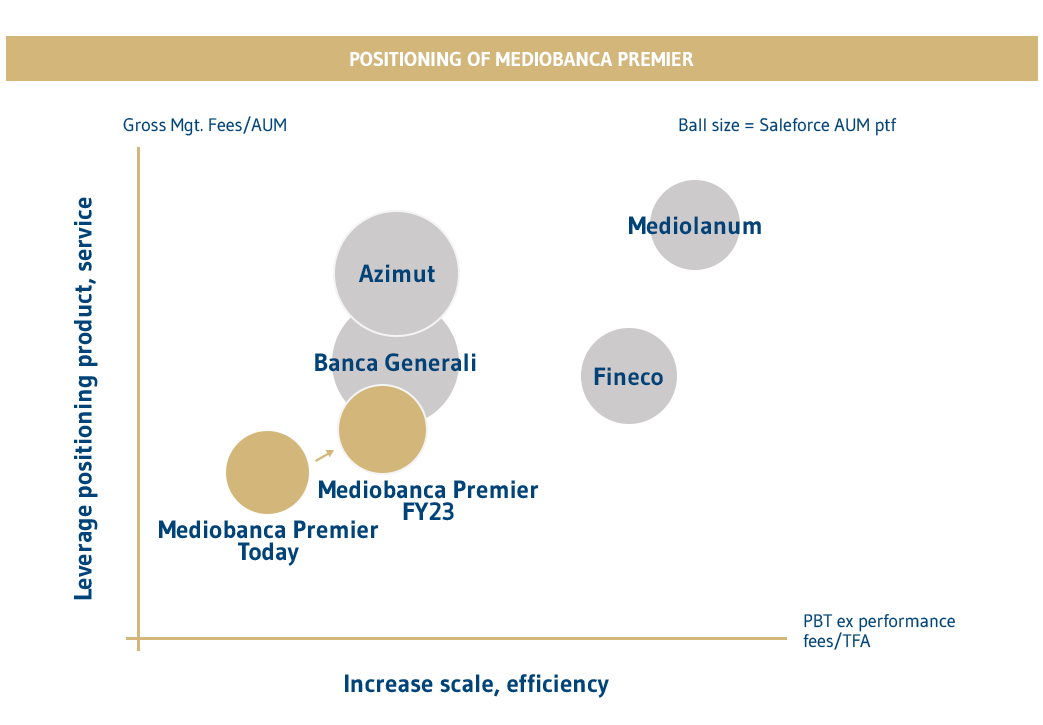 Strengths
Sustainability

Transparent, valuable, fair-priced investment services
Recurrent and diversified income

Innovation

Easy, efficient, real omni-channel distribution model
Digital excellence since inception
Highlights (annual consolidated results at 30 June 2023)
An innovative and distinctive business model
CheBanca! offers its broad customer base:
a truly omni-channel distribution model through branches, online and with a network of financial advisors;
fair and transparent pricing in line with increasingly tighter regulatory standards;
top-quality banking and advisory services largely tailored to each customer's needs;
a distribution network 522 relationship managers, 565 financial advisors and 208 point of sales, for optimal geographical coverage.
Our ambitions
Over the next few years, we aim to serve our customer base increasingly better by:
upgrading our digital platforms, which will include updating our app-based and remote advisory service, while preserving the value of our relationships with customers;
expanding distribution with a 60% increase in the sales force, focusing on the quality and value of people;
developing the product range with an offer that is increasingly in line with investment needs;
improving the segmentation of products and customers to personalize services based on each customer's profile, promoting the group's expertise;
developing synergies with the specialized asset management boutiques to provide an increasingly distinctive, specific offer.
Learn more www.chebanca.it