Main shareholders
Mediobanca's ownership structure currently consists of more than 46,000 shareholders, with a sizeable and growing presence of institutional investors, currently at 50%.
The Mediobanca group's ownership structure has changed significantly since 2003, along with the transformation of its business model from holding company to specialized financial group. The percentage of institutional investors, now at 50%, has grown together with the reduction of the historical Mediobanca investor agreement.
In 2018 the signing a consultation agreement (now at 10.65%) does not establish lock-up conditions.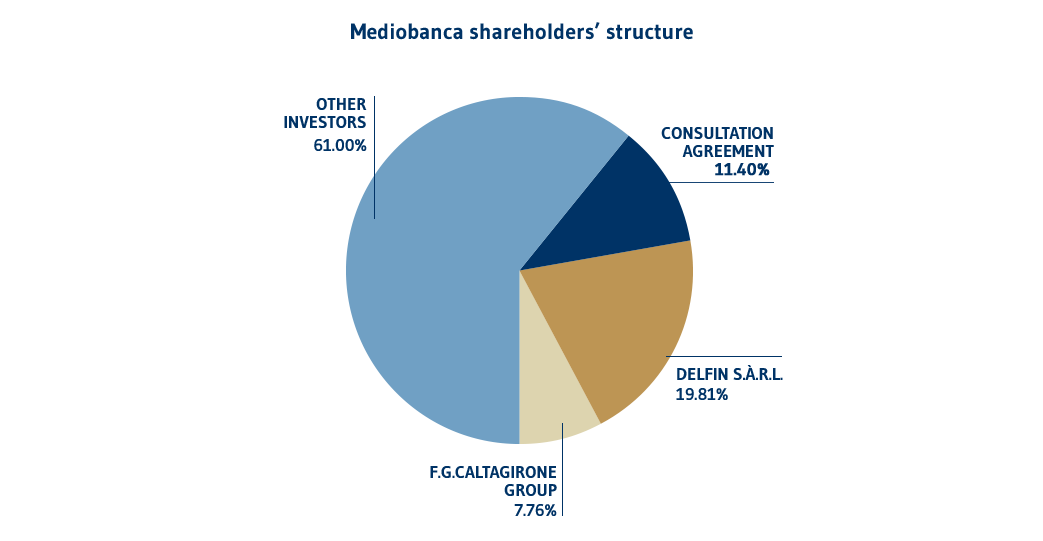 39% of Mediobanca's institutional investors are based in the United States, while 18% are British and 7% are French.
Main shareholders
The following shareholders hold a stake of 3% or more in Mediobanca's capital:
SHAREHOLDER
% SHARE CAPITAL (1)
LEONARDO DEL VECCHIO (2)
19.4%
FRANCESCO GAETANO CALTAGIRONE(3

)

5.5%
GRUPPO BLACKROCK (

4)

4.1%
GRUPPO MEDIOLANUM
3.4%
(1) Following the cancellation, on 1 December 2021, of n. 22.6 million treasury shares.
(2) Indirect investment held through Delfin S.à r.l.
(3) Form 120A dated 3/5/2022, indirect shareholding through Istituto Finanziario 2012 SpA, Gamma Srl and Fincal SpA.
(4) BlackRock Inc. (NY) through fifteen asset management subsidiaries (form 120 B of 6 August 2020), of which 0.69% pontential holding and 0.13% other long positions with cash settlement.
All shares are registered and each share bears the right to one vote in the general meeting. For information on the number of shares following the last update on share capital go to: Company information