For us, Diversity, Equity and Inclusion is a business priority that forms an integral part of our 2019-2023 strategic plan for sustainable, ESG-conscious growth.
Indeed, we believe that valuing diversity to strive for increasingly inclusive excellence allows us to:
Create a more dynamic and innovative environment by engaging with a variety of ideas and stimuli
Attract young talent, who are increasingly eager to live out their values in the company
Enhance resilience to change.
While recognising that diversity is multifaceted, at the moment the focus of our strategy is on gender, cultural and generational diversity.
The path of change will therefore be deployed across three pillars:
Reporting to the CSR Committee, the Diversity, Equity and Inclusion Management Committee was established on 3 May 2021 with the aim of strengthening Group Mediobanca's commitment to diversity and inclusion issues.
The DE&I Committee will oversee the following activities:
developing a clear approach in terms of mission, strategies and practices in order to foster an inclusive work culture in which professional skills, perspectives and personal ideas are fully valued;
supporting the adoption and implementation of initiatives to support diversity and promote inclusion;
monitoring initiatives to create a more inclusive work environment.
The members of the Committee - mostly representatives of the business divisions - have the task of implementing the new inclusive culture and the Global DE&I Programme within the organisation.
The DE&I Committee is supported by a Diversity and Inclusion Manager, who is responsible for proposing guidelines for defining the Global DE&I Programme for the Mediobanca Group.
The person appointed as Diversity and Inclusion Manager is, in turn, supported by a network of ambassadors that are also organised into groups (the Employee Resource Groups) identified within the organisation, who contribute to the promotion of an inclusive culture and the achievement of the objectives of the Global DE&I Programme.
We will be careful to periodically review internal processes such as recruiting, promotion and remuneration, in order to ensure equality and fair treatment.
We want to broaden the pool of potential candidates in order to identify talent with a diverse potential. With this in mind, we have increased the number of universities that we connect with.
We have also established meetings and events for female students and professionals with the aim of bringing young female talent closer to the world of finance.
We intend to promote career paths that are unconstrained by cognitive and behavioural biases because we believe that meritocracy is the key to a company's success.
The involvement of corporate leadership in Diversity, Equity and Inclusion is essential to ensure that the policies and practices adopted in this area are concretely applied and translated into shared values.
With a view to supporting managers in adopting an inclusive leadership style, we have promoted a structured training course that will involve people throughout the Group.
The learning process, partly experiential and partly based on micro-learning, with training video-pills and learning nudges, will focus on the 9 dimensions of Inclusive Leadership:
Humility: questioning oneself
Empathy: Going beyond empathy
Courage: challenging the status quo
Reflexivity: noticing and unbiasing
Openness: welcoming and integrating the new
Flexibility: adapting one's mental habitus
Service: to place oneself at the service of the development of others
Architecture of choices: creating inclusive contexts
Psychological safety: creating an environment in which everyone feels safe and accepted
Our objectives
We have translated our Diversity, Equity and Inclusion (DE&I) commitment into the new toDEI roadmap that defines our strategy, goals and initiatives for an even more inclusive workplace.
March 2022 saw the launch of 'toDEI', our roadmap for a diversity-sensitive, fair and inclusive work environment. Our ambition is to promote a corporate culture that is based on understanding, respecting and valuing differences, primarily gender diversity, while recognising that they are one of the multiple facets of diversity. For this reason, we have defined, as a priority, objectives that aim to balance gender diversity within the Group, ensuring that women can break through the glass ceiling and find no obstacles in their path to growth: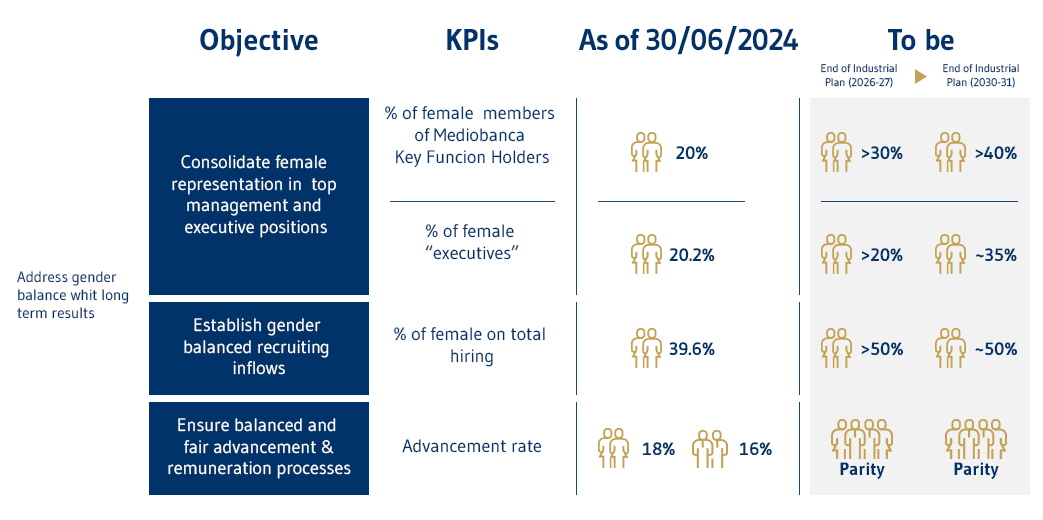 INCLUSION AGENT:
People who drive the right approach for people
The path of cultural change will be facilitated by the identification of a broad network of trained 'inclusion agents' who will provide the behavioural guidelines to be followed in order to guarantee a collaboration based on the recognition, respect and constant pursuit of inclusion and enhancement of diversity.
Furthermore, by using the new company intranet platform, we intend to promote collaboration and the exchange of ideas between groups of like-minded employees in order to gather ideas and insights that can improve the working environment.
A commitment to our people
Our people are essential assets of our group and the strategic foundation of our competitiveness.
Human relations are a strategic element of development and success. These relations allow us dialogue and build a relationship of trust with our customers and, in general, with all our stakeholders. Our people are the key element in building those relationships that allow us to work for and with customers, and thus let the community grow.
We have therefore decided to equip ourselves with a Human Resources Management Policy with the aim of managing and developing our human capital to the best of our ability, ensuring through a system of internal policies and procedures the valorisation of people and the development of their skills.
DE&I
in action
Fairness in remuneration systems
Mental health and well-being
Bloomberg Gender-Equality Index (GEI)