The Mediobanca Group today
We are among the best European banks in terms of growth in revenues, profitability, remuneration of shareholders and market performance
Mediobanca is a specialised financial group, whose business model is based on synergic, high profit margin and low capital intensity business sectors and in which the group boasts a solid competitive position.
Since 2016, we have cemented our position in the Italian Wealth Management market, which offers significant long-term growth opportunities. We serve Affluent customers with CheBanca! and HNWI and UHNWI customers with Mediobanca Private Banking and Compagnie Monégasque de Banque.
In Corporate & Investment Banking activities, in which our roots lie, we hold a position of undisputed leader in Italy. We offer companies high-quality Advisory, Lending, Capital Market and Specialty Finance solutions. We have also established a consolidated presence abroad, in Spain and France in particular.
Since our foundation, we have been present in the Consumer Banking market, where our subsidiary Compass Banca is one of the three main operators in Italy.
The 2019-2023 business plan forecasts further growth of the group and in the returns for all stakeholders, thanks to the effective and unique business model, albeit in a macroeconomic scenario that is expected to be challenging for the whole financial sector.
Highlights (annual consolidated results at 30 June 2021)
The Group delivered solid results in FY 2020-21:
revenues up 5% to €2.6bn, with record fee income (+18% a/a) and resilient NII (-2% a/a);
cost/income ratio flat at 47%; significant drop in cost of risk, back to pre-Covid level at 52bps (down 30 bps YoY);
net profit €808m (+35% YoY);
adj. ROTE1 9%;
DPS 2021 at €0.66, equivalent to 70% cash payout;
sustainability strategy continues to be implemented.
| PROFIT AND LOSS ACCOUNT | | BALANCE SHEET | | OTHER INFORMATION | |
| --- | --- | --- | --- | --- | --- |
| Revenues: | € 2.6 bn | Total assets: | € 83 bn | S&P rating | BBB |
| GOP risk adj: | € 1,142 mln | Customer loans: | € 48 bn | Fitch Rating | BBB- |
| Net profit: | € 808 mln | Funding: | € 56 bn | Moody's | Baa1 |
| Cost/ income ratio | 47% | Lending/funding: | 86 % | Payout | 70% |
| Cost of risk | 52 bps | TFA | € 71 bn | Capitalisation: | € 8.7 bn |
| ROTE | 9% | CETI | 16.3% | No. of staff: | 4,921 |
1) ROTE calculated using adjusted net profit (GOP net of loan loss provisions, minority interest and taxes, with taxation normalized at 33%, 25% for PB and AM, 2% for PI).

Our structure is based on three complementary and synergic pillars: Asset Management and Private Banking, sectors in which we gradually established a foothold over the last few years and in which we intend to invest further, also through targeted acquisitions; the historical activity of Investment Banking (Corporate & Investment Banking), in which we have a leading position in Italy, with a deeply-rooted presence abroad; Consumer Banking activity, in which we have been pioneers in Italy ever since our foundation.
Our revenues are currently balanced between Corporate/Principal Investing (roughly 40%) and Retail/Private (around 60%) activities. Revenues from equity investments refer primarily to the 13% stake in Assicurazioni Generali (from valuation using the equity method).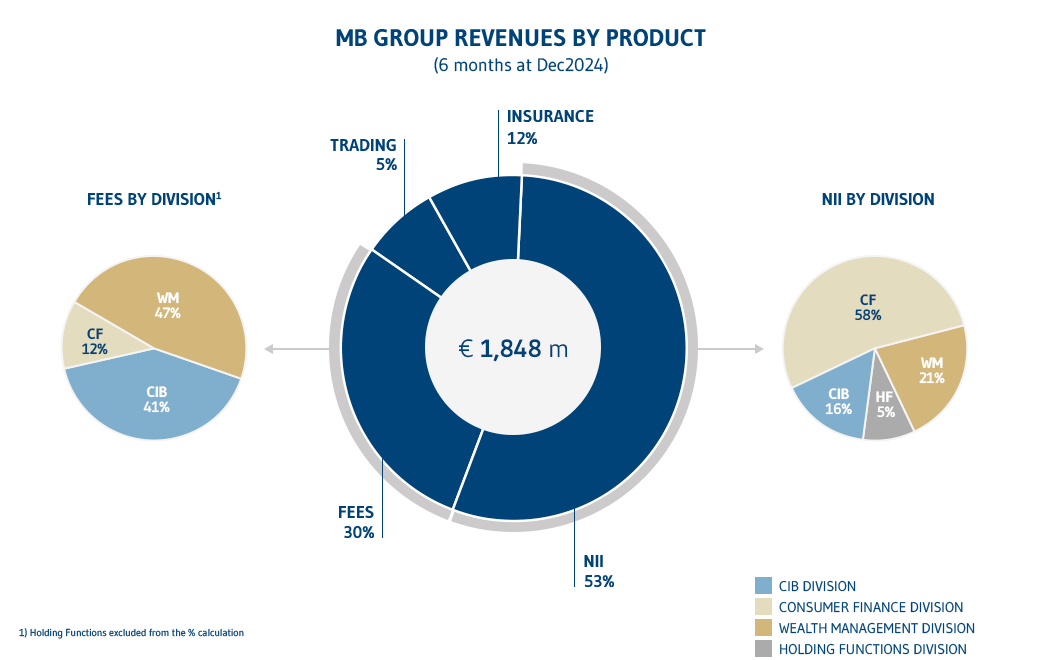 Over the last few years we have diversified our lending, to ensure a balance between corporate and retail.
Corporate loans:
in Wholesale Banking, our group concentrates on large corporate, and around half of lending is carried out abroad;
our portfolio is diversified by business sector and is increasingly less concentrated;
we are not present in FICC activities (fixed income, currencies and commodities), in the process of global restructuring, and nor even in problematic segments/products such as small Italian companies, the shipping market and real estate development.
Retail loans:
Consumer Banking accounts for roughly half of retail lending, with the remainder primarily residential mortgages;
Consumer lending loan book is highly fragmented with a 24 month duration, personal loans rapresent more than half of the toal amount.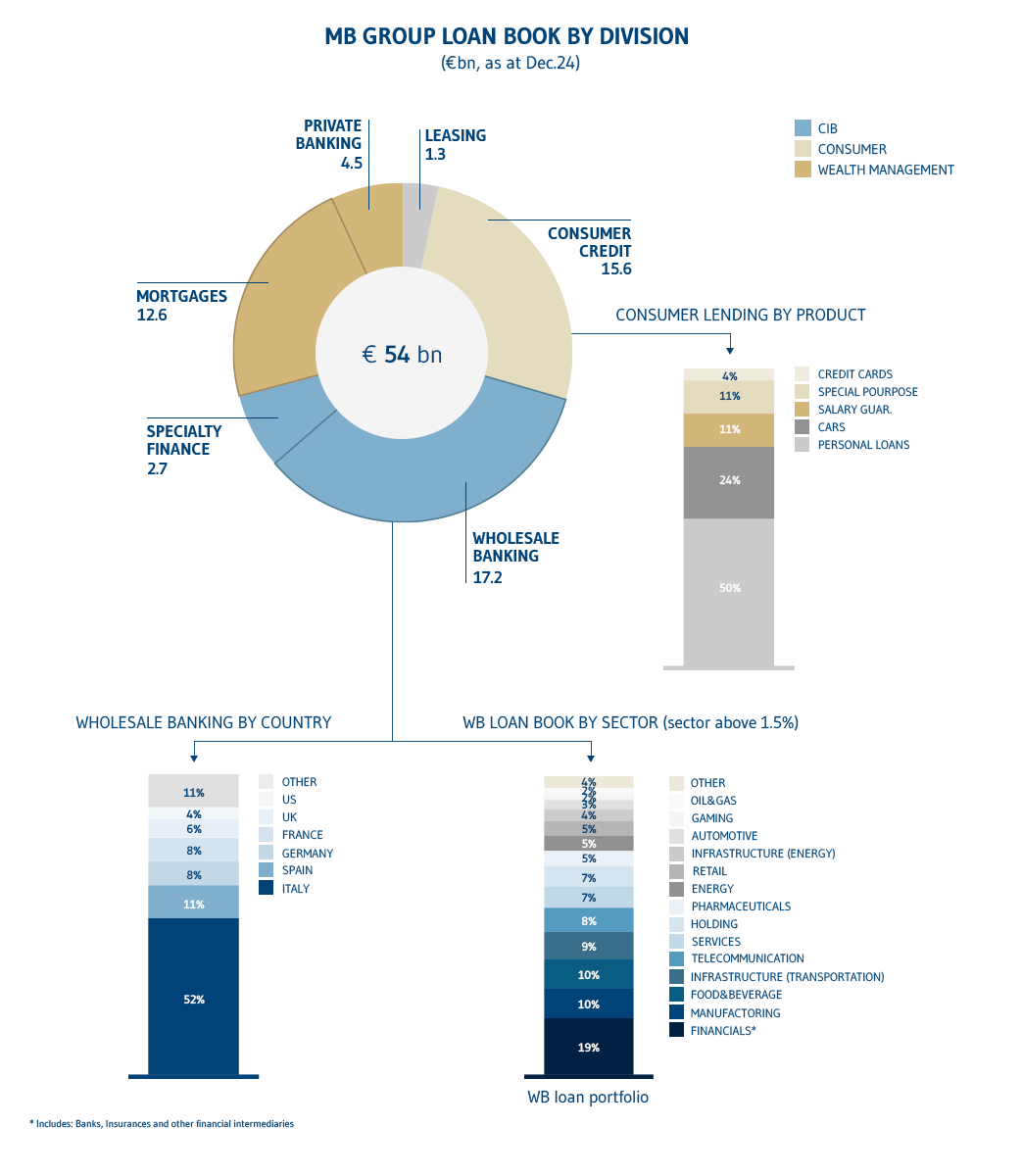 TFA around €80bn as at March22
AUM/AUA around 65% of TFA
Wealth Management deposits at €28bn
Portfolio optimised by dimension and composition
Prudent risk management based on the selection of high quality assets