Board of Directors
Board increasingly in line with international best practices
Our unwavering focus on improving corporate governance has led, in particular, to changes in the Board of Directors, the body responsible for the group's strategic oversight.
Not only do these changes reflect national and international best practices and developments in ECB and Bank of Italy regulations, but they are the result of our board assessments.
Changes in the board's composition
Appointed on 28 October 2020 and in office until the approval of the financial statements at 30 June 2023, the current Board reflects a break from the past in terms of its composition:
about 40% of its members are women;
more than half of the Directors are independent;
two members were elected from minority lists (including a Lead Independent Director starting from 7 April 2022).
PREVIOUS BOARD
CURRENT BOARD
AVG. FTSE MIB COMPANIES*
NO. OF DIRECTORS
15
15
12
DIRECTORS APPOINTED BY MINORITY LISTS
13%
13%
17%
NO. OF WOMEN DIRECTORS
33%
40%
36%
NO. OF INDEPENDENT DIRECTORS
53%1
60%1
63%
AVERAGE AGE OF DIRECTORS
59
59
57**
EXECUTIVE CHAIRMAN
NO
NO
-
1 Independence requirements according to the art.19 of Articles of Association
* Consob: 2019 Report on corporate governance of Italian listed companies
** Bank: 60 years old
Board of Directors: members
Independence
Independence is a key element in our decisions and corporate governance, both within the parent company's Board of Directors – whose members meet specific independence requirements (independent Directors make up the majority of the Board) and in our subsidiaries, where it is our long-standing practice to appoint independent members.
9 out of the 15 board members currently in office qualify as independent under the requirements of the Italian Consolidated Finance Act ("TUF") and our Article of Association. We assess their independence annually based on the information they provide and considering any relationships that could compromise their independent judgement.
A Lead Independent Director, appointed for the first time on 7 April 2022, serves as the point of contact within the Board of Directors in order to co-ordinate the independent Directors' requests and contributions, and works together with the Chairman to ensure that the Board receives exhaustive and timely reporting flows on the Bank's operations. The Lead Independent Director presides over meetings of the independent Directors, to discuss matters of interest regarding the functioning of the Board of Directors.
The independent Directors meet regularly without the other Directors present. In the period from 1 July 2021 to 30 June 2022, the independent Directors met on three occasions, discussing in particular issues such as whether or not to appoint a Lead Independent Director, the SREP letter 2021, possible improvements to be made in order to further strengthen sound and constructive internal debate, and the budget
More stringent independence requirements
Article 19 of the Articles of Association establishes an unequivocal definition of independence, aligned with the new Code of Conduct for Listed Companies as recently revised. The board of directors assesses the independence of its non-executive members annually, and a director is not independent if they:
they hold, directly or indirectly, including through subsidiaries, fiduciaries or other intermediaries, a shareholding of over 3%;
they are, or have been in the three preceding financial years, an executive director or employee of: The company itself, one of its subsidiaries with strategic significance, or a company subject to joint control;a shareholder which directly or indirectly, including via subsidiaries, fiduciary compa nies or another intermediary, owns an interest of over 3% in the company;
they have or have had in the past three financial years, directly or indirectly, a significant commercial, financial or professional relationship with: The company itself or its subsidiaries or with their respective executive directors or senior management;An individual that controls the company, inter alia with others by means of a shareholders' agreement; or, if the parent company is a company or entity, with their respective executive directors or senior management;
they receive or have received in the past three financial years, from the company itself, a subsidiary or the parent company, significant additional remuneration to the fixed emolument due to them in respect of the role held by them and the fee receivable for participation in Committees recommended by the Code of Conduct or otherwise provided by the regulations in force;
they have been a Director for more than nine (not necessarily consecutive) of the last twelve financial years;
they are executive directors of another company in which an executive director of the company is also a director;
they are partner or director of a company or entity forming part of the network of the company retained by the issuer as its external auditor;
they are a close relative of a person in one or other of the situations listed under the points above.
| BOD RENEWED BY THE AGM THE 28TH OF OCTOBER | OFFICE | DATE OF BIRTH | INDEPENDENT* | INDIPENDENT** | MANAGER |
| --- | --- | --- | --- | --- | --- |
| RENATO PAGLIARO | CHAIRMAN | 20/02/1957 | | | X |
| MAURIZIA ANGELO COMNENO | DEPUTY CHAIRMAN | 18/06/1948 | | X | |
| ALBERTO NAGEL | CEO | 07/06/1965 | | | X |
| FRANCESCO SAVERIO VINCI | GENERAL MANAGER | 10/11/1962 | | | X |
| VIRGINIE BANET | DIRECTOR | 18/01/1966 | X | X | |
| MAURIZIO CARFAGNA | DIRECTOR | 13/11/1947 | X | X | |
| LAURA CIOLI | DIRECTOR | 10/07/1963 | X | X | |
| MAURIZIO COSTA | DIRECTOR | 29/10/1948 | X | X | |
| ANGELA GAMBA | LEAD INDEPENDENT DIRECTOR | 15/08/1970 | X | X | |
| VALÉRIE HORTEFEUX | DIRECTOR | 14/12/1967 | X | X | |
| MAXIMO IBARRA | DIRECTOR | 13/12/1968 | X | X | |
| ALBERTO LUPOI | DIRECTOR | 29/03/1970 | X | X | |
| ELISABETTA MAGISTRETTI | DIRECTOR | 21/07/1947 | | X | |
| VITTORIO PIGNATTI-MORANO CAMPORI | DIRECTOR | 14/09/1957 | X | X | |
| GABRIELE VILLA | DIRECTOR | 18/06/1964 | | X | |
* Independence requirements according to the art.19 of Articles of Association
**Independence requirements according to Article 148.3 of Italian legislative decree 58/1998
The composition of the Board of Directors in office reflects an appropriate combination of competences and professional skills, in line with the requirements set in the Report on the Qualitative and Quantitative Composition of the Board of Directors.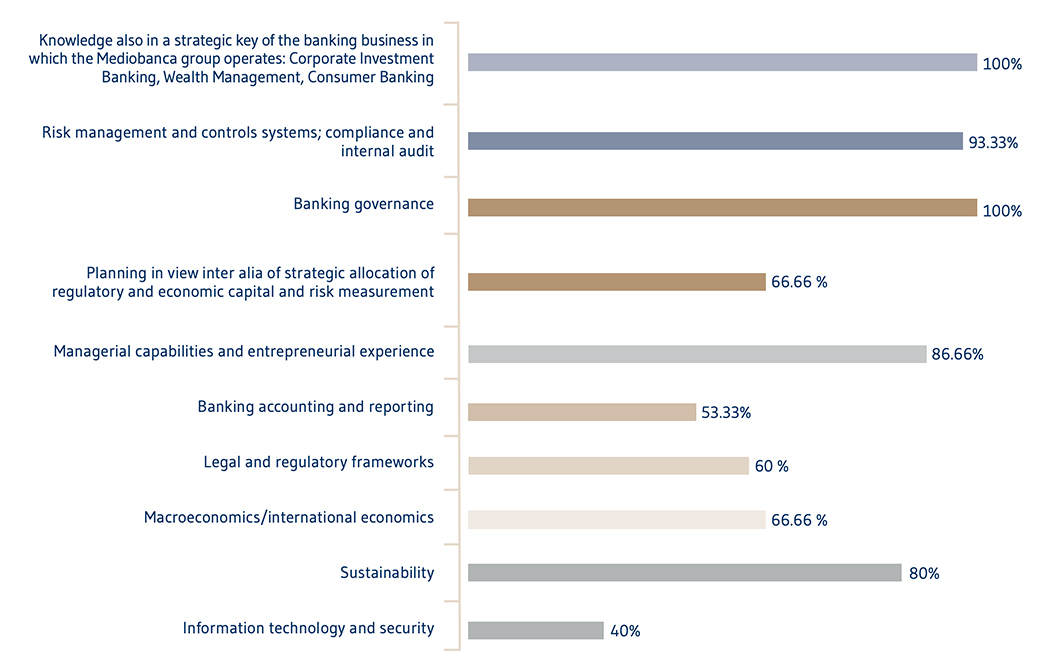 A breakdown by gender, age bracket and number of years in the role is provided below: