New frontiers in technology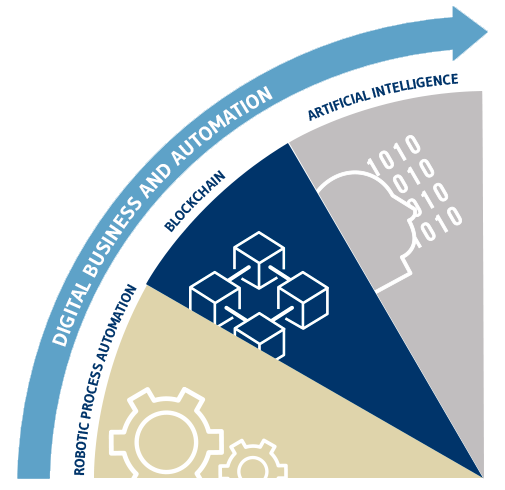 Constant monitoring of technology trends is a key condition for us to pursue our strategy of medium- and long-term innovation. It is fundamental to the research phase, and to experimenting with new solutions to be implemented in order to improve the Bank's systems and the offering provided to clients.
We retain an ongoing dialogue with leading operators that work in the area of innovation, including providers, advisors, research institutions and universities. We participate actively in sector conferences, to ensure we remain continuously aligned with the market. To facilitate the introduction of innovation within the Group, we pursue a systematic process that combines external stimuli with new needs that arise within the organization itself, in order to define a practical roadmap of priorities in line with the business divisions' strategic objectives.
The IT coverage activities completed in recent years have enabled us to take part in some important innovation projects within the Italian banking system and to implement new technologies to improve the services offered.
Approach to Blockchain technology
We have adhered to the Italian Ministry for the Economy and Finance's regulatory sandbox with the "Security Token & Alternative Investment Last Mile Project 2022", a project for the tokenization of financial instruments to be issued and placed using blockchain, which aims to tokenize stock units in a UCITS fund managed by Mediobanca SGR and placed by CheBanca! for a set of selected clients.
The tokenization process enables the potential of the blockchain technology to be leveraged in order to generate benefits in terms of programmability, investment and disposal trades, and increased efficiency of the traditional issuance and placement process.
As proof of the Group's interest in system-wide projects, CheBanca!, was one of the first banks in Italy to take part in the "Spunta interbancaria" project. The project, run by ABI Lab and supported by technology partners such as NTT Data and SIA, now has around 115 participants, including Mediobanca itself. Its purpose is to develop the use of blockchain technology to simplify the process of cross-checking cashflows between banks, with a view to substantially reducing risks and the costs related to such activities.
Following this first, positive experience with ABI Lab in the "Spunta interbancaria" project, CheBanca! launched an integration project with a new generation platform known as "FAST", in collaboration this time with the AllFunds Blockchain Business Lab, with the aim of generating efficiencies and reducing the time required to manage fund transfer processes (currently 45 days on average). The preparatory phase in which the technical solution was assessed is now complete, and a detailed release plan is in the process of being defined. The new form of operation via blockchain will run alongside the current process of fund transfers until all players (brokers, banks, distributors, fund managers, etc.) have adopted the blockchain and Distributed Ledger Technology (DLT).
To support the Capital Markets area, we have automized investment certificate issuance processes through agoraPlatform, a platform that uses DLT to obtain enhanced operating efficiency. The project, developed in conjunction with UK-based company agora Digital Capital Markets Ltd (agora), is consistent with the increasing consolidation of investment certificates among the many innovative financial solutions available. Mediobanca is a leading player in this market, with over 300 issues per annum. agoraPlatform is the first platform in the world to use smart contracts and DLT in the issue and lifecycle management of certificates. The platform significantly reduces the time involved in producing the offer documentation for investment certificates issues: an activity that normally requires a substantial amount of information to be repeated, which, as such, is significantly prone to operating errors. agoraPlatform makes it possible to manage the majority of this information automatically, limiting human input to the initial stages only. The platform effectively gives Mediobanca a huge competitive advantage, especially at a time when distributors are tending to favour issuers who not only can offer competitive prices, but also an improvement in time-to-market in terms of the preparation of the contractual material, which is a key factor in effective allocation of investment choices.
The infrastructure developed by agora facilitates seamless interaction between the various units and divisions of the Capital Markets area (sales, structuring, trading and documentation), within a digital environment, and enables all offering documents to be drawn up and finalized automatically, including term sheets, final terms and conditions, and other ancillary documentation. Such innovation has been made possible by DLT and smart contracts, to ensure that all stakeholders involved, internal and external, are synchronized in real time throughout the entire issuance process.
In exploring the possibilities offered by blockchain technology, we are closely monitoring developments in web 3, which combines AI and blockchain and will radically alter the approach to using services online, granting users access to valuable experiences that previously would have been unthinkable. The Metaverse is a first step in this direction, and here at Mediobanca we are exploring all the opportunities that this immersive digital experience offers, and carefully scrutinizing new value added services that can be provided through it.
Artificial Intelligence and Robotic Process automation
At Mediobanca we are covering the developments and the opportunities offered by the world of Artificial Intelligence (AI) with projects that follow a roadmap for applying the technology based on the Group's different business requirements.
Artificial intelligence has been used to develop an improved customer experience with the creation of a chatbot for CheBanca! clients based on IBM Watson technology. The chatbot is available 24 hours a day, 7 days a week, via website and mobile app, and has enabled an improvement in Customer Service operations. At the same time we have also developed two other chatbots: one for Group staff, to answer questions on HR issues, and one for technical and individual IT issues (IT Service desk).
We have also developed a solution to support the business teams in the area of derivative product management: working in partnership with NVIDIA, an international player operating in the graphic processors sector, we have developed a calculation infrastructure for derivatives management. The project has been implemented in continuity with the Bank's roadmap to digitalization, an issue which is becoming of fundamental importance in financial markets, and with the objective of simplifying the client experience, to allow customers to construct their own financial products, appreciate their value and manage them. The success of the initiative was due to a co-ordinated by different teams within the Bank and was supported by technology components of the highest quality.
We are also working to implement artificial intelligence solutions in Corporate and Investment Banking, because we believe the technology will be an important competitive driver for this business. Significant financial benefits have already been leveraged from the use of artificial intelligence by RAM Active Investments in Geneva, our boutique specializing in systemic asset management (funds that use sophisticated software and algorithms to generate superior returns) and by Polus Capital Management, which uses prototype machine learning applications in fund management.
We are also using solutions based on Robotic Process Automation (RPA) more and more extensively and with increasing success. These solutions have the objective of significantly reducing the time and effort necessary to complete certain activities, and to free up time for staff to devote themselves to higher value added activities.
The implementation of these solutions in the back office processes of Mediobanca, CheBanca! and CMB has enabled significant advantages to be obtained in terms of reducing operational risks and increasing cost efficiency. We have also extended the use of RPA to other areas of the Group using more sophisticated cognitive automation approaches that leverage on artificial intelligence instruments.