Our strategy
Over the next few years our CIB division will continue strengthening its leadership in Europe, particularly in M&A and capital market services. The synergies with Private Banking and the contribution of the French boutique Messier & Associés will add further momentum to this virtuous cycle of customer coverage
A challenging market context
Times have not been easy for the European investment banking industry. In the past decade, revenue has shrunk at an average rate of 5% per year, while costs remain high (cost/revenue ratio of 75%). Abundant liquidity, low interest rates and increasingly tighter banking regulations, implemented to mitigate the risk of further financial crises like those experienced in the last ten years, have forced many industry players to undergo massive restructuring.
However, this scenario poses some interesting opportunities for a solid, flexible bank like Mediobanca. The European CIB market is seeing intense domestic and cross-border M&A activity by medium and large companies as they experience low rates of internal growth and limited consolidation of their sectors, combined with a low cost of debt. In this context, by intensifying their focus on customers and developing flexible business models, advisory boutiques are relieving universal banks of their market share.
The 2019-2023 strategic guidelines
Our 2019-2023 strategic plan envisages growth in the CIB division's revenue and profitability driven by our distinctive qualities and the actions we intend to pursue.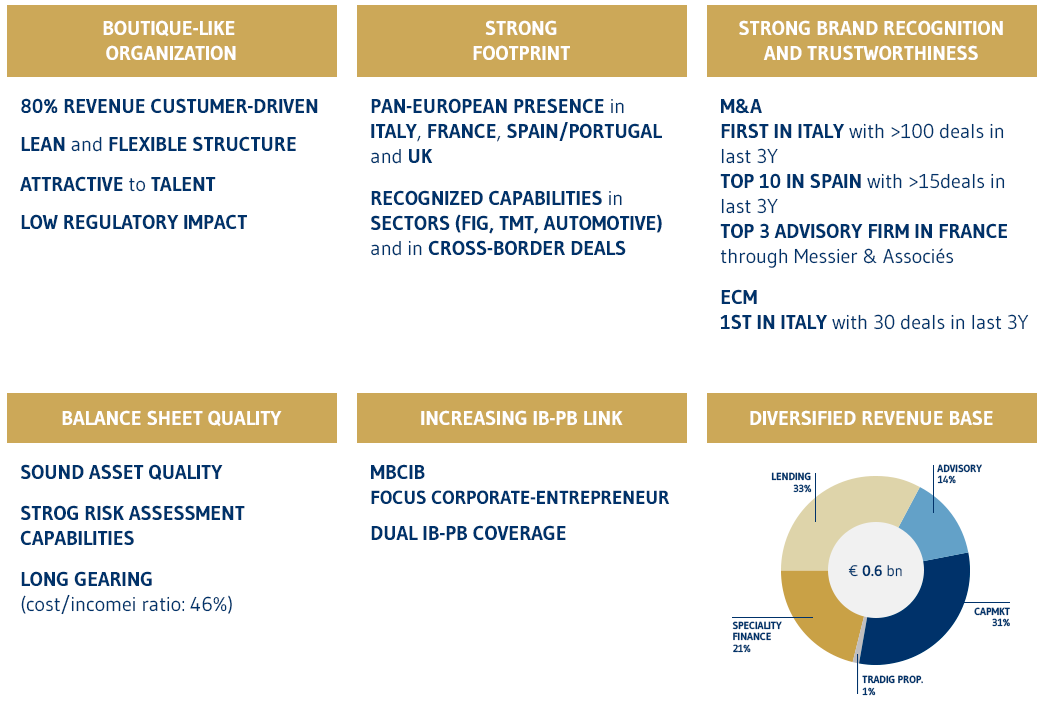 The 2016-2019 results
We consolidated the CIB division over the course of the 2016-2019 three-year plan by:
investing in human resources;
further diversifying revenue with the acquisition of the French boutique Messier & Associés and the development of specialty finance products;
preserving our excellent asset quality;
boosting profitability (ROAC of 15% compared to 10% in June 2016);
reducing capital intensity;
rigorous cost base control.
Our mission for 2023: consolidating leadership in Europe
Mediobanca's strategy is to consolidate its position as a leading investment bank in Europe, particularly in Italy, France and Spain, focused mainly on M&A and capital market products and services to assist medium and large businesses in domestic and cross-border transactions.
To seize market opportunities:
we will strengthen our advisory business origination platform in the three core markets that we serve (Italy, France and Spain) to drive internal cross-selling;
we will develop an integrated European capital market platform to offer customers a full range of solutions with new products added all the time;
we will employ capital in an increasingly profitable way.
Furthermore, we will continue examining acquisition opportunities to expand our advisory and capital market businesses.
Synergies to support growth
To support our growth over the term of the plan we will increasingly promote cooperation with Private Banking. These synergies are already efficient and give us a significant leg up on the competition: we are the only bank in Italy to offer customers comprehensive coverage for both their CIB and private banking needs. This means we are able to advise business owners - particularly in the mid cap segment - with corporate decisions and help them manage their personal wealth.
Internationally, we will capitalize on our partnership with the French boutique Messier & Associés to consolidate our European footprint, maximizing our coverage of different sectors and collaboration with financial investors. The agreement signed in 2019 will increasingly establish our command of the French/Italian market in which cross-border deals are booming.
We will strengthen distribution
By the end of the plan, we expect to have:
~165 professional advisors (+50%) covering our three core markets: Italy, Spain and France (including the 40 Messier & Associés advisors);
~145 capital market specialists.
The financial targets in the 2019-2023 plan
The CIB division will increase revenue and profitability over the course of the plan through synergies and an increasingly efficient use of capital, confirming its resilience and ability to generate value in an intensely competitive market.
By the 2023 time horizon we see:
solid revenue growth (CAGR: +6%) to €0.8bn, driven by low capital-absorption activities;
selective growth in lendings (CAGR: +2%) to €20bn;
increasing profitability (ROAC 16%).