A consistent, sustainable strategy
Distinctiveness and sustainability are the features of our 2019-2023 plan. Having completed the strategic repositioning, which has affirmed us as a specialized financial group, we plan to continue growing in terms of revenue, earnings and shareholder return by investing in talent and innovation
In the2019-2023 strategic guidelines presented in November 2019, the Mediobanca Group envisions balanced growth in all business segments. By leveraging our distinctive strengths, we will outperform the average market growth in revenue and earnings and we will boost remuneration for all stakeholders and shareholder return.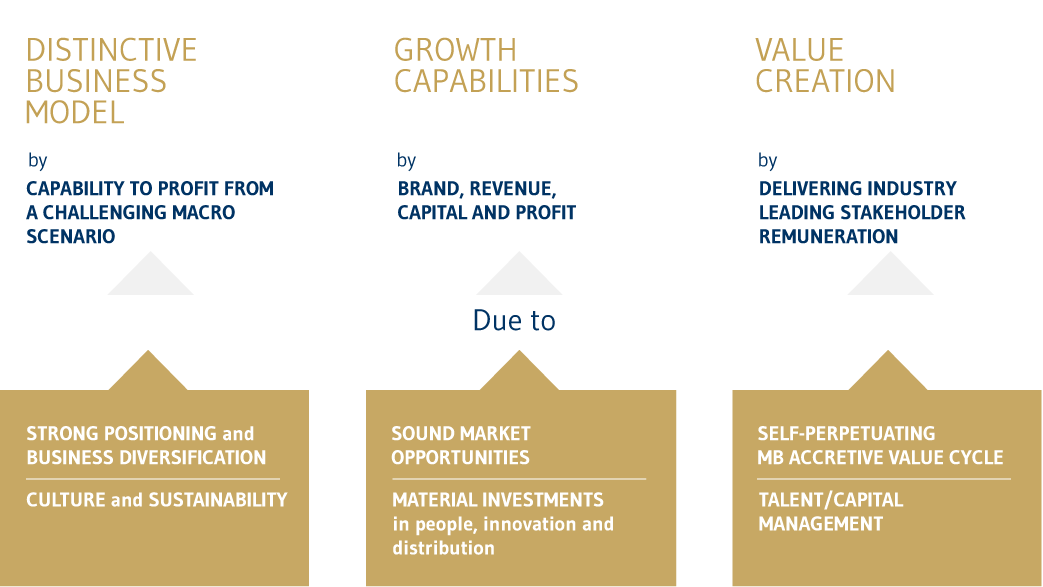 The 2019-2023 strategy reflects our history and values and is the natural progression of the path we have taken since 2003 and the 2016-2019 business plan.
Over the past 15 years, we have strived to transform our business model, evolving from a holding company to a specialized financial group and streamlining our ownership structure and governance. We have developed our core business and sold non-strategic investments.
Fuelled by the 2016-1019 strategic plan - which led to the creation of our Wealth Management division - this transformation is now complete. We can now look to the future with renewed growth prospects, investing in talent, innovation and distribution and maintaining one of the best risk/return ratios in Europe.
Growth in all business areas
Although the market context poses significant challenges for the financial sector, with weak economic growth, negative interest rates and increasingly tighter regulation, there are interesting development opportunities for solid, specialized players capable of turning difficulties into opportunities for growth.
By 2023, we expect revenue to rise 4% to €3 billion, with 4% growth in earnings per share and an increase in ROTE (at 11%). Each of our businesses should see growth in revenue and will improve – or maintain – absolutely exceptional levels of profitability.
At the same time, we will continue to explore external growth opportunities through acquisitions to strengthen our core businesses.
Learn more about our financial goals
Wealth Management
Created in 2016, the Wealth Management division is expected to grow by seizing opportunities in the Italian wealth management market. Over the term of its business plan, this division, which is already the Group's number one source of fees, will increase its contribution to Group revenue further (+8% to €0.7 billion in revenue). The plan is for Mediobanca's wealth management services to definitively dominate the Italian market with peerless quality, innovation and value for clients.
Learn more about our Wealth Management strategies
Consumer Banking
Compass, a historic name in Italy, will strengthen its direct and digital distribution to continue expanding volumes and increasing revenue. By leveraging our distinctive qualities – leadership, integrated distribution and solid asset quality – we expect revenue to rise 3% (to over €1.1 billion by the end of the plan).
Learn more about our Consumer Banking strategies
Corporate & Investment Banking (CIB)
Impeccable reputation, distinctiveness, focus on customers and integration with the private banking business are just a few of the strengths that will enable us to consolidate our leadership in Europe, particularly in M&A services and capital markets. We plan to remain the top provider of CIB services for medium to large companies in our core markets (Italy, Spain and France) with projected growth in revenue of 6%.
Learn more about our CIB strategies
Insurance & Principal Investing
Consisting almost exclusively of our interest in the insurance company Assicurazioni Generali, this division contributes to revenue and earnings, guaranteeing sound profitability and further improving Group stability. It is also a source of funds which can be used for growth through acquisitions.
Learn more about our Insurance & Principal Investing strategies
Investments in people and innovation
We have no restructuring or reorganization plans in sight, unlike many of our competitors in the European banking market. To support our growth, maintain our technological excellence and best respond to our customers' changing habits, our business plan includes substantial investments in talent, innovation and distribution:
we will add over 1,000 professionals to our sales force (600 people for the Wealth Management division and 400 for Consumer Banking);
we will invest €250 million in technology, mainly to improve digital platforms and services across all our divisions, but also to comply with the new regulatory requirements. Innovation is a vital enabler of our strategy.
Learn more about our investments in innovation
An ESG strategy integrated in the business plan
The 2019-2023 plan aims to combine business growth with financial soundness and social and environmental sustainability, creating long-term value for all our stakeholders.
Our sustainability commitments are reflected in qualitative and quantitative targets included in the short and long-term senior management performance reviews.
Learn more about the integration of ESG in our plan
Dividend policy
A more structured dividend policy and a new capital management approach were among the key points of the Strategic Plan.

The Board of Directors will submit the following proposals to shareholders at the Annual General Meeting to be held in October 2022, subject to authorization from the ECB a dividend per share of €0.75, in line with a payout ratio of 70%.
Learn more about our dividend and capital management policies