Investments in innovation
Under the 2019-23 Group IT Strategic Plan, which is now coming into its final stages, a total of €250m has been invested in IT processes and systems. The primary objective of this investment has been to perpetuate our technological excellence in support of our growth, to respond increasingly effectively to the change in consumer habits, and to improve our users' experience.
Fully aware that technology and digitalisation are fundamental in offering a service of excellence, we have initiated a gradual transformation of the Information Technology structure, with the objective of best dealing with the metamorphosis of the banking sector, the new needs of customers, regulatory and cyber security requirements, guaranteeing the sustainability of the business in the long-term.
The process launched aims to help traditional IT systems evolve towards more agile and dynamic approaches, capable of adapting to new business methods, also through the adoption of automation technologies and artificial intelligence.
Some 85% of the funds made available as part of the 2019-23 Strategic Plan have been invested in systems upgrades, and the remainder for compliance with the regulations. Our IT strategy aims to boost the group's growth, by investing in technology and innovation.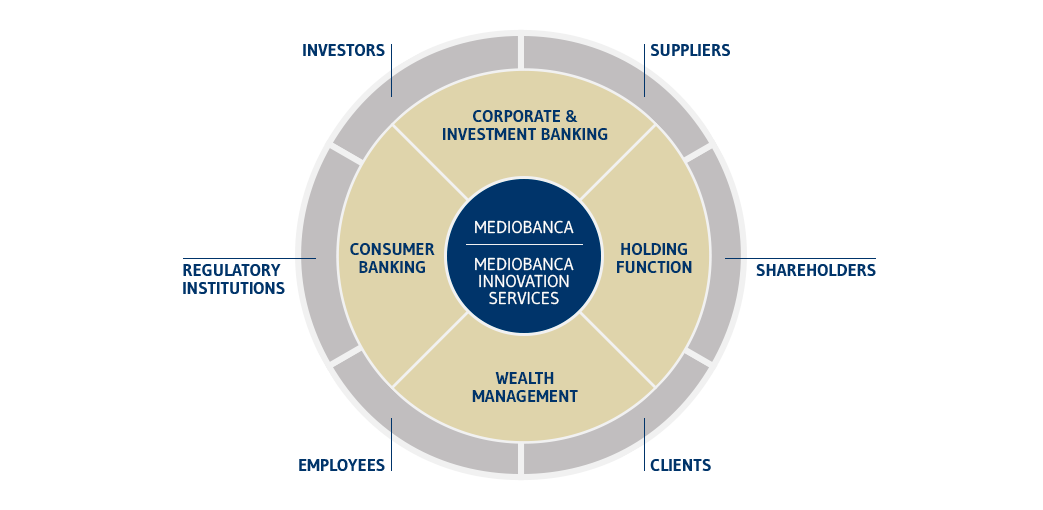 Group IT identity
The Mediobanca Group's IT identity reflects our character as a specialist, diversified operator, consisting of companies offering financial services on several markets: Wealth Management, Consumer Banking and Corporate & Investment Banking
We are convinced that the technology component is an important and differentiating factor, as it gives the Bank the right set of tools to support its plans for growth and respond to market needs effectively.
We consider that regard for our stakeholders is fundamental in order to build our corporate strategies. Clients and staff are the focus of our activities and technology solutions, and with this in mind we co-ordinate the work of our suppliers, taking account of any needs and restrictions deriving from regulators, shareholders and investors.
To guarantee high standards for all our companies, in a complex technology environment which is undergoing rapid transformation, we have adopted a federal model that can meet our needs in terms of coverage and centralized IT management, while at the same time permitting the flexibility and specialization required by the individual business units:
Mediobanca Innovation Services (MIS) provides centralized infrastructure technology services, a set of common applications for all the Group companies, and manages the Mediobanca portfolio of applications. Its objective is to support the strategic projects and initiatives implemented, ensuring the maximum effectiveness and efficiency, working alongside an outsourcer responsible for performing the basic specialist activities; each Group company manages the specific applications component for its own business;
5% of the Group's staff members work in IT, the majority in MIS, Compass and CheBanca!.
At Mediobanca S.p.A. there are dedicated competence centres that ensure:
IT architecture and strategy governance, focusing the Group's synergies and seeking to evolve in line with best market practices;
innovation processes and the introduction of "on-the-edge" digital technologies, through market scouting and by collaborations with entities and research institutions;
governance of systems, business continuity, IT risk and risk of non-compliance with the regulations (IT Risk, IT Regulation, IT Compliance & Business continuity);
cyber security, with security coverage activities over an extended area, using a proactive approach based on specific sector technologies.
The IT strategies are structured in accordance with the business objectives established by senior management, who set out the guidelines based on the possible development scenarios. The central Group Technology and Operations unit ensures that the Board of Directors is consistently briefed on all systems development activity. Senior management are also involved in training sessions with the objective of providing an overview of the market and technology trends applied to finance, including the contribution of selected experts from some of the leading national and international technology operators and research institutions.
Group IT Strategy
The financial services sector is undergoing profound transformation as a result of new ways of interacting and using services that have radically altered the traditional scenario.
The banking world in particular is going through a very challenging time, having to contend with continual changes to the regulations and brand new competitive scenarios.
Banks are therefore having to revise their own business models in view of the strong pressure on margins and potential reductions in profitability. In a world which is changing so fast, here at Mediobanca we are focusing on specializing and diversifying our businesses, and have identified Wealth Management as an area for development as it offers very high growth potential in Italy.
The acceleration in the spread and adoption of new technologies, and the new global and full digital players entering the market (including from sectors other than finance), have driven changes in clients' habits and expectations, that must be addressed with a distinctive approach to structuring the offering in terms of products and services.
If they are to address internal and external stimuli and more dynamic scenarios effectively, IT systems have to evolve towards new approaches.
For this reason we have devised an IT strategy, starting with the Strategic Plan, which is committed to supporting the Group on its road to growth by investing substantially in technology and transformation.
The IT strategy is based on four different pillars: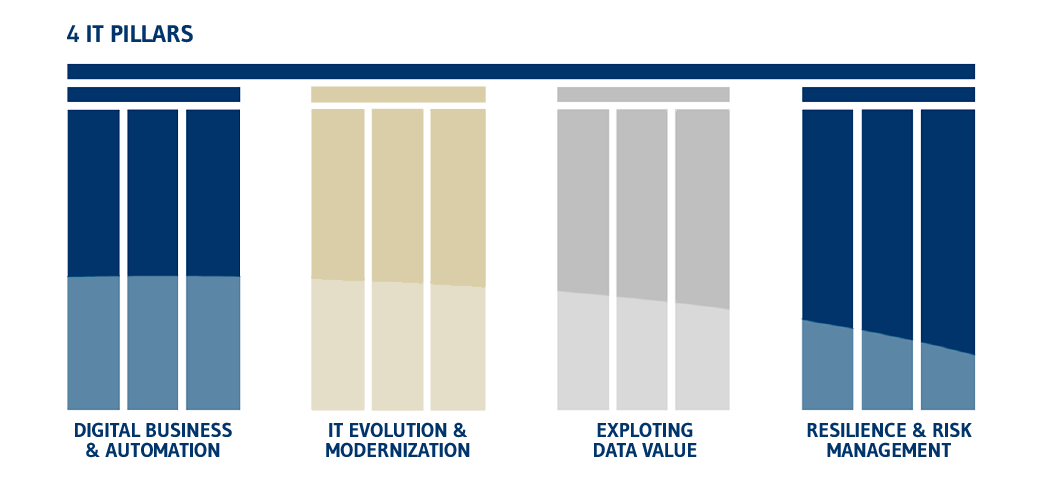 Digital Business and Automation
In Mediobanca we prefer an approach to technology transformation based on the principles of solidity and sustainability and which at the same time focuses considerable attention on product digitalization and channel innovation.
Our choices in the area of IT investment are therefore geared towards obtaining benefits in the short and medium/long term, and seeking to maximize production capacity.
In practical terms our commitment in this area involves supporting all the Group's businesses, with priority given to the segments which are expected to grow fastest, notably Wealth Management where we have set ourselves the objective of providing instruments to improve the work of those engaged in this area, and support the expansion of the client contact channels available. We see a development roadmap emerging that will bring innovative operations and initiatives with which to develop the advisory platform from a full digital perspective. In this roadmap, attention is focused on exploiting Group synergies by selecting technology solutions that have already been used successfully at some of the Group companies.
RPA
We use Robotic Process Automation (RPA) solutions to allow resources to be freed up for use in higher value added activities, automate repetitive and high-intensity activities,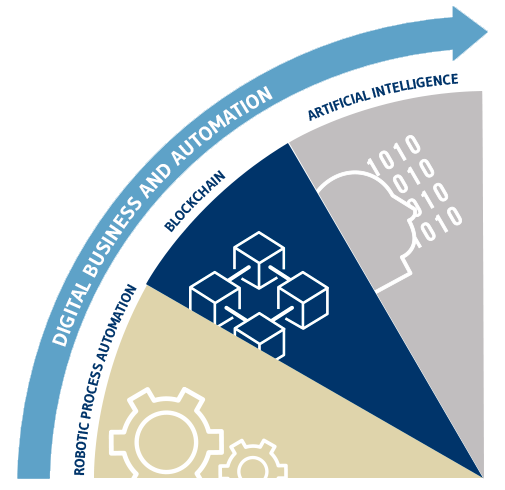 bring down operating costs, improve the quality of work by reducing operational risks, and ultimately improve service levels. Our aim is to gradually extend the use of RPA further throughout the Group, using more sophisticated cognitive automation approaches by exploiting artificial intelligence instruments.
ARTIFICIAL INTELLIGENCE

We are working on machine learning solutions to strengthen the analysis and collection of knowledge insights in order to support the business divisions.
We believe that artificial intelligence will continue to bring material benefits in finance, as shown by the use we have made of these technologies at RAM AI in Geneva, a boutique specializing in systemic asset management (i.e. funds which use sophisticated software and algorithms in order to generate above average returns), and at Cairn Capital, which uses prototype machine learning applications in fund management.
BLOCKCHAIN
We are also looking carefully at possible developments and applications using Blockchain technology, which is expanding significantly in the world of finance at this time. Through CheBanca! we are participating in the ABI Lab "Spunta interbancaria" project, which uses r3 Corda technology Blockchain to cross-check flows between different banking institutions, and so substantially limit risks and costs in relation to business.
Spafid Connect also participates in the European Financial Transparency Gateway project, as a hub for Italy. The project seeks to exploit Blockchain technology in order to manage EU regulated information, thus creating a consultation system distributed peer-to-peer without the need for a central certifying entity.
IT Evolution and Modernization
Our aim is to simplify the portfolio of existing technologies and remove critical obsolescence. We aim to unlock maximum value from our applications assets, making the system more efficient and streamlined overall, and have carried out investments to modernize the IT system and reduce the technology debt.
In accordance with the variety of business lines featured in the Group, the applications portfolio is very rich and specialized by the different Group companies. In this scenario, we work consistently to develop our technology and consolidate our front- and back-end systems.

With the measures included in the IT plan, we have derived maximum value from the applications portfolio, which we see as a fundamental asset to support the business. Our actions have been geared towards making systems more efficient, with an adequate time to market in order to support the business in reaching its ambitious targets set as part of the 2019-23 strategic plan.

In the integration process that ensues from the Group's acquisitions (e.g. the former Barclays operations and Banca Esperia), areas of duplication are promptly identified and analysed, and we have intervened to reduce the applications fragmentation.

We have launched a modern advisory platform to support the bankers working for Mediobanca Private Banking. The new platform will allow more modern modules to be made available, to perform advisory activities and allow innovation in managing relations with clients.

We have invested significant resources in the CRM (Customer Relationship Management) platforms in operation at Compass Banca and CheBanca!. At both companies we work consistently to develop CRM systems that can be adapted to their respective features in order to exploit their potential more fully.
From a development perspective, we have adopted cloud platforms in specific areas, approaching the relevant technology partners in the respective markets. We are gradually extending the adoption of cloud services to support staff productivity, reducing the time to market for specialist solutions that are differentiating for the business, in accordance with the regulations in force and the IT security requisites defined at Group level.

At Mediobanca we have invested in improving the environment where we work by continuously introducing new office automation instruments and web collaboration modules, to provide a state-of-the-art digital workplace.

The work required to ensure systematic IT consolidation is ongoing and also includes technology debt reduction issues. We plan our interventions very carefully, to avoid potential problems relating to failure to update software and hardware components.
Being able to manage the large quantities of data handled by Mediobanca and the importance of data quality has a central role in the initiatives included in the IT plan.
At Mediobanca we have invested, and continue to invest, substantial funds in order to improve and strengthen data quality and the architecture of the repositories used to store, use and exploit data.
The company's IT system must be able to guarantee performances that are adequate for both regulatory and business requirements, and at the same time be accurate enough to respond to the needs of clients and regulatory institutions effectively.
We work hard to prepare adequate tools and processes in order to ensure consistency, thoroughness, integrity and reliability of data at the level of the individual legal entities and at Group level.
To this end we have launched projects to strengthen:
Governance: the existing data governance model has been transformed from decentralized to central structures, serving all organizational units;
Instruments: the tools currently in use have been improved with the objective of strengthening reporting and analytical capabilities;
Skills: investments in training to increase specialist data management skills and knowledge.
We continue to work on a roadmap to develop a Group data warehouse, and amended our organizational structure by instituting a central Data Governance Officer.
Resilience and Risk Management
Resilience
We monitor the provision of critical services at Group level through a Business Continuity team which ensures the IT infrastructure is adequate to the needs in terms of availability of business processes.
By "resilience" what we mean is the information systems' ability to continue being available even if exceptional events of varying degrees of seriousness should occur. The resilience of the IT systems is thus of fundamental importance in ensuring business continuity, and as such represents a strategic priority for the Mediobanca Group as a whole.
With this in mind, we continue to reinforce our structures with a long-term programme which aims to increase the IT systems' resilience and the service windows. At Compass, for example, we aim to support the operations of the branch office network outside of office hours and at weekends too on an ongoing basis.
When the COVID-19 emergency first arose, we worked hard to ensure business continuity by bolstering the infrastructure and enabling Group staff members to work from home effectively, while at the same time ensuring that security issues were properly governed.
Risk Management
The importance of IT risk and cyber security issues has increased continuously over the last few years as economic activities have increasingly been transferred to digital and online platforms, which are potentially exposed to new threats of cyber attacks.
It is vitally important for the Group to ensure the security of its data and systems, manage IT risk, and prevent and mitigate security incidents and episodes of IT fraud.
We have specific capabilities in the area of IT risk management and the IT risk analysis process, alongside specialist skills in the information security operating environment. We are aware of the need for continuous improvement in these issues, and so regularly carry out detection and analysis activities using security intelligence instruments.
For us it is vital to invest resources in sustaining the existing model for managing activities. This involves adopting three different approaches simultaneously:
Proactive: preventing IT attacks and fraud and protecting the Group's assets;
Investigative: identifying the risk events that could compromise protection of the Group's information capital;
Reactive: managing events/incidents and restoring operations while limiting the impact on the business.

Management of IT risk and cyber security issues evolves in accordance with changes in the companies' business models and channels and with changes in the attacks and new trends in technology and/or architecture.